Ellie and Natasia is the debut BBC Three sketch show from comedy duo Ellie White and Natasia Demetriou. The series introduces viewers to absurd characters and scenarios, including mummy vloggers, privileged hipsters and a romantic encounter gone terribly wrong on the Tube.
But who are Ellie and Natasia?
Natasia, born in London, comes from an English and Greek-Cypriot family, while Ellie was born and raised in Oxford. The pair are known for their screenwriting, comedy and acting.
The highly-anticipated show, six episodes long, comes three years after Ellie and Natasia released a first episode for the series in 2019 and delves into the reality of being a woman today. Inside Ellie and Natasia's world are people whose life's mission it is to guess strangers' coffee orders; cringe-inducing chefs who over-sexualise food, and a woman whose identity revolves around her pixie haircut. The show is a hilarious takedown of the everyday sexism and beauty ideals women deal with.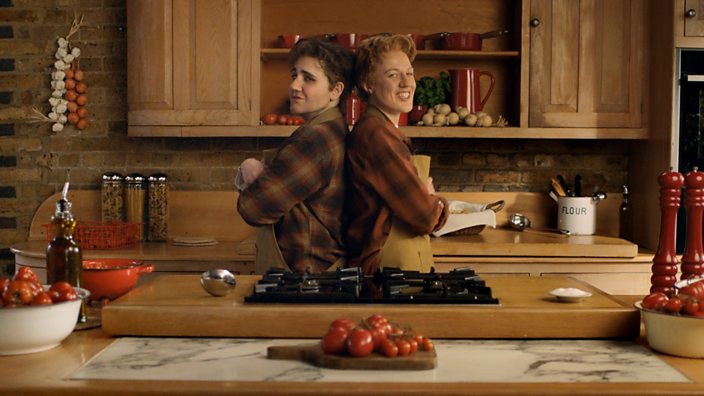 Ellie and Natasia is the first show they've written entirely together for TV but they've been writing and performing sketches for several years. Natasia stars as Nadja in the US mockumentary What We Do in the Shadows, created by Jemaine Clement and based on the film with the same name. The show, which is on BBC iPlayer, also features comedy heavyweights Matt Berry and Kayvan Novak known from Toast of London and Fonejacker.
Natasia also stars alongside her younger brother, Jamie Demetriou, and Ellie in the Bafta-award-winning Channel 4 series Stath Lets Flats. The British sitcom is written by Jamie who stars as Stath, an incompetent and socially inept British Greek-Cypriot man who is absolutely terrible at his job. He tries and fails to impress his dad in the hopes of taking over the flat-letting business multiple times. Natasia plays his dopey sister, Sophie, while Ellie is her best-friend, Katia. Throughout the series the pair try and fail to reach stardom through launching a music career.
Outside of Stath Lets Flats, Ellie has appeared in Timewasters and Murder in Successville. She's best known for playing Princess Beatrice of York in the Channel 4 parody sitcom series The Windsors, which also stars Harry Enfield, Hugh Skinner, Louise Ford and Richard Goulding. She is also the lead, Cathy, in the BBC comedy series The Other One, a sitcom about two sisters who have no idea of each other's existence until their father's sudden death at a birthday party. Both series of the show are available to stream on iPlayer.
The pair have also released several sketches on YouTube including, Revived, a mini-mockumentary about a reforming pop duo. The series starts with them as 2004's biggest pop duo Jaq Wheat And Dani B. Once best friends and top of the charts, the pair stop speaking after one of them commits the ultimate betrayal: running off with the other's fiancé, Lee. Years later they're forced to reunite after a radio station challenges them to reform and get a number 1 single.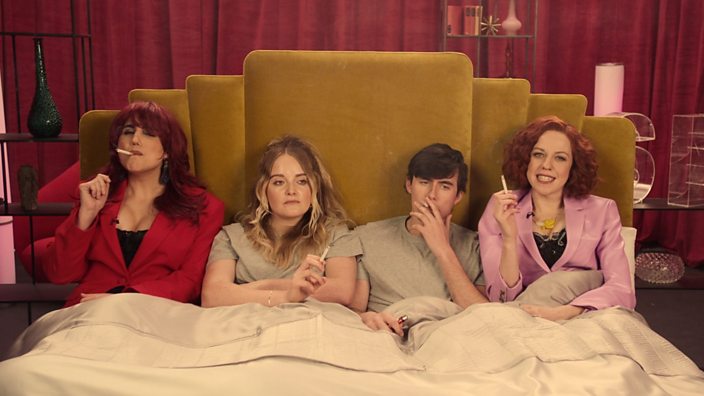 Ellie went to the University of Bristol alongside Jamie who introduced her to his sister. Both were part of Bristol Revunions, a student-led sketch comedy society. The two quickly became best friends and started doing comedy together.
Ellie landed her first TV role alongside Jamie on Channel 4's Comedy Blaps and on BBC Three's Live at the Electric, after appearing in the 2013 Edinburgh Festival Fringe.
Ellie and Natasia also worked as nannies during the early stages of their comedy careers, which gave them lots of inspiration for Ellie and Natasia.
In 2015, Natasia and Ellie were part of a supergroup of writer-performers in BBC Three's People Time. Soon after, they took their own live comedy show Natasia Demetriou and Ellie White are Gettin' Big to Edinburgh and the Soho Theatre, for a sell-out run three years later.
Their pilot episode of Ellie and Natasia was celebrated by critics and in 2020 BBC Three ordered a six-part series of it.
"Ellie & Natasia is a sketch show series written and performed by triple threats Ellie White and Natasia Demetriou," BBC said. "It's a show that gives voice to characters like the active-wear mums and thick as pigs Trustafarians, as well as original takes on current pop trends and anxiety. It's the perfect sketch show for anyone that shares their passion for coffee and snakes."
Following the news, the comedy pair celebrated how the sketch format is "a shining light of hope and we are happy and honoured to be those torch bearers, with love Ellie and Natasia".
Harry Hill, who is an executive producer on the series, commented that he was "thrilled to hear that the BBC have rewarded the best new British double act since Vic & Bob with a series".