Sir Stelios Haji-Ioannou, Creator and Owner of the famous easy brand hosted the fourth family of brands reunion since 2022 at the company's offices in Monaco on the Cote d'Azur last weekend. The two day event unites all members of the easy family of brands as well as associates that work closely with easyGroup, for a busy schedule of business updates as well as social opportunities for the brands to interact with each other, exchanging ideas and exploring possible business cooperation.
Unfortunately, not all members of the family were able to attend in person, however there was an online Zoom session to allow them to be part of the reunion experience. The full Zoom session hosted on the 12 May 2023 can be seen here.
Speakers for the main event over the two days included:
Stelios Haji-Ioannou, easy.com, Creator and Owner of the easy Family of brands (Host)
Steve Jude, CEO easyHub.com, serviced office space  websites needed
Herve Lemoine, herve.lemoine@webedia-group.com, MD of www.easyVoyage.com
Louis Poisson, COO easyHotel, budget hotel easyHotel.com
Darren Mosley, CEO easyCleaning, household hygiene products easycleaning.uk
And Alexis Murat, winner of the recent "Pitch It Easy" competition and newest member of the easy family of brands with easyVirtualtours and an example of his product taken live at the event below.
easy Family of brands group photo at the YCM.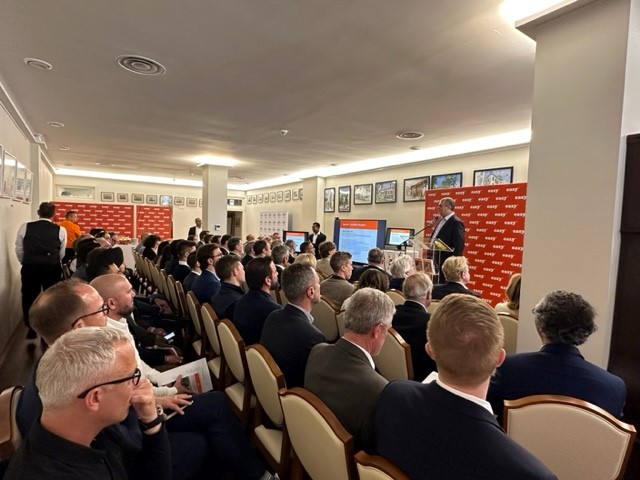 Photographs of a selection of speakers over the two days
Russell Braterman of easyJet
Darren Mosley of easyCleaning
Rogan Angelini Hurll of easyCar
Tony Anderson & Stelios end proceedings with dinner and the easy Quiz hosted at the YCM
Stelios with first prize winner Emily Carmichael of easyHub.
Stelios with second prize winner Aurore Hochard of Bayes Business School